I've been feeling impatient these days, waiting what seems like forever for a brand new 3D platformer to show up on the 3DS, so when I first saw glimpses of Sonic Lost World in pictures, it was a sight for sore eyes. The Skylanders series on 3DS proves that the genre is still alive and kicking, it just needs more support. It's been quite some time since I've taken Sonic on a 3D adventure (probably as far back as the Dreamcast days for me), so let's take a look at how this particular platformer shapes up…

I reached out to Nintendo of America last week regarding a possible release date for the upcoming animation app and received a reply from them just yesterday. Although the app was originally scheduled for an early August release, Nintendo cited problems with servers being overloaded in Japan and thus delayed the release of the application in both Europe and North America.
The good news, at least, is that it's still coming out before the end of the summer. Here's what a representative for Nintendo had to say about it:
I'm happy to report that Flipnote Studio 3D for the Nintendo 3DS will be available as a free download via the Nintendo eShop sometime this summer! While we know that it is coming soon, we unfortunately do not have an official release date just yet. To learn more about this upcoming application, as well as the new Flipnote Studio 3D service, please check out the official website:
So, while the delay is a bit of a bummer, it's at least nice to know that it will be coming out within the next 3-4 weeks (Summer officially ends on September 21st in North America).
I love the internet. It's a place for sharing. Some folks over at the gbatemp forums have put together a nice little program (and a free one at that) that let's you convert any 3D movie for watching on the Nintendo 3DS.
I converted this video and watched it in 3D on my own 3DS and it works great. The 3D effect is solid and the picture quality overall is excellent. This was from a .mp4 file that was originally 720p and then down-converted to 480×240 using this new program (named 3DS Video 1.00).
If you think you might wanna give it a try, you can grab the program & read the instructions here: 3DS Video 1.00
Today, I finally figured out how to convert a 3D video recorded on a Nintendo 3DS into the YouTube 3D format. It took a bit of work, but with the proper codec (ffdshow) and the proper program (Stereo Movie Maker), I was able to pull it off. Check out my first and only converted video thus far of my cat, Flynn:
View new screenshots in 3D on your Nintendo 3DS by clicking on the image below and by visiting the link to even more new mpo files.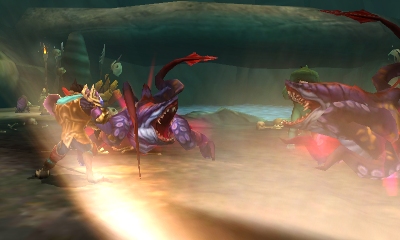 Nintendo of Japan has made available 20 screenshots on their website viewable in 3D. Go to this link on your Nintendo Browser to see the .mpo files in 3D on your 3DS: